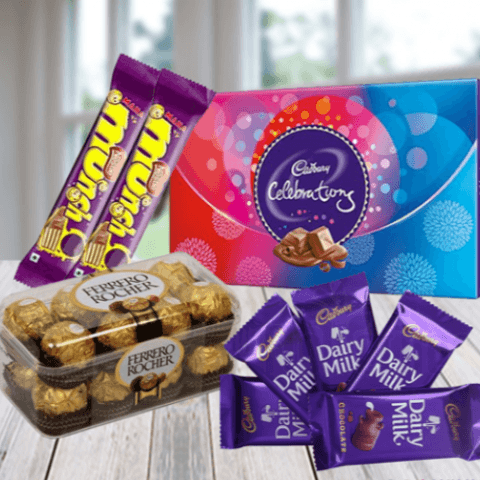 Chocolate Combo - Full Enjoy
Big Cadbury celebrations,Medium Ferrero Rochers,5 dairy milk and 2 munch chocolates in this combo of chocolate.Chocolates, another name of happiness and sweetness. you can order it on Birthday, Anniversory, Chocolate day and other day also.
Combo Details:-
1. Big Cadbury Celebrations (Quantity: 1)
2. Medium Ferrero Rocher (Quantity: 1)
3. 5 Dairy Milk Chocolates
4. 2 munch
Last Reviews
Nidhi- April 4, 2019, 11:23 pm
a number of gift varieties available, suitable for evry occasion
---
Ramandeep kaur- February 3, 2019, 5:37 am
The cake was superb and taste was awesome. Recommend It!.
---
ASHISH OMAR- January 14, 2019, 1:01 pm
combo offers are quite attractive and within reasonable prices
---
RANU SINGH- February 2, 2019, 9:27 pm
Thank you Cakegift for the accurate delivery and the cholocate cake was very yummy and delicious.
---